Make your Trade Shows Count

Making the most of your Trade Show contacts
So, you've just gotten home from a trade show, and you've got a pocket full of business cards (or the virtual equivalent). Now what? You most likely have a few vague memories of the people you met, and doubtless they have a vague memory of you. But what's the most effective way to follow up with these leads and get them to do business with you?
The most essential part of converting new leads into paying customers is establishing trust. One way to establish that trust is to send these leads a sequence of emails day-by-day outlining who you are, and what sets you apart. Imagine a system where you could send out something similar to this to everyone you met at the trade show, in just 1 step: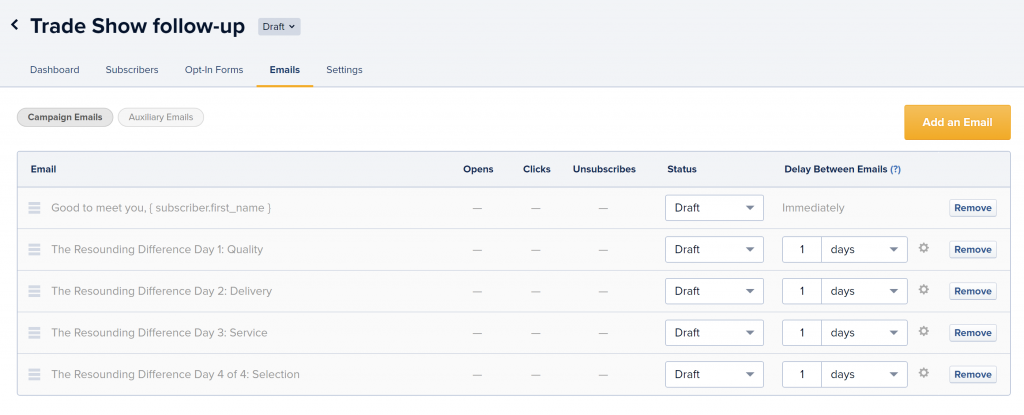 Benefits
There are lots of benefits to a consistent, automated Trade Show followup sequence:
Qualifying your leads. Let's face it, not everyone who stops by your booth is in your target market (who knows – maybe they just stopped by for the swag!). Sending out a series of emails explaining who you are and what you do gives them an opportunity to take a look, and to hit unsubscribe if they're not interested, saving you both time & energy.
Educates your leads. A series of well-crafted informational emails is an opportunity to explain your business and the benefits of dealing with you in bite-sized chunks so that by the time you follow up personally, they know what you're about.
Name recognition. Once you've shown up in their inbox for a few days, your leads will recognize your name, and, if you're sending content that's engaging and helpful, they'll begin to trust you as well.
Personalization. As you can see from the first email in the image above, a good Marketing Automation tool will let you customize your emails. You can add personal touches such as their name or company name, but you can also segment your leads (e.g. Landscapers vs. Garden Centres), and only include certain information if it's applicable.
Feedback. A good Marketing Automation system will track who's opened your emails & who's clicked on the links in them. This gives you some good information about how "warm" a lead is when you call to follow up.
Automated. This is where the Automation part of "Marketing Automation" comes in. When set up properly, you don't have to send any emails yourself, or remember to follow up. You just kick off the campaign, and it will do its thing each day. When it's done, you can send yourself a notification to give them a call and speak with them personally.
Where to from here?
If the idea of Marketing Automation interests you, by all means contact us for more information, and to see whether we can help you make the most of your trade shows.